Testimonials
Unsolicited from Customers
You guys have been great. LOVE my horse trailer.
Cindy P.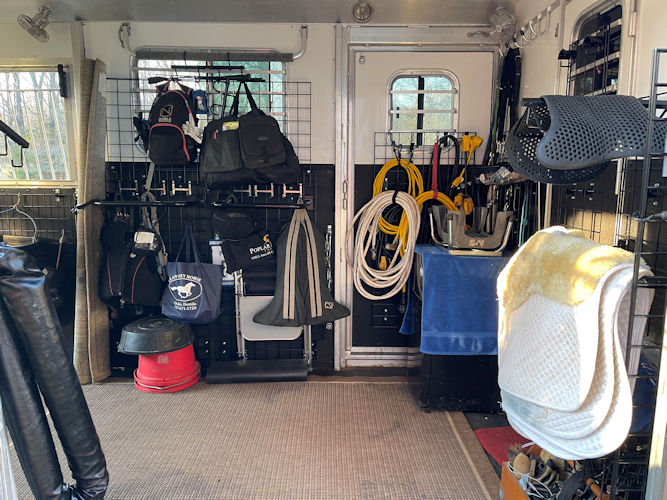 | | |
| --- | --- |
| Bridles | Tack Room |
| Wash Stall | Barn Aisleway |
I love how organized my trailer is now!
Leanne K.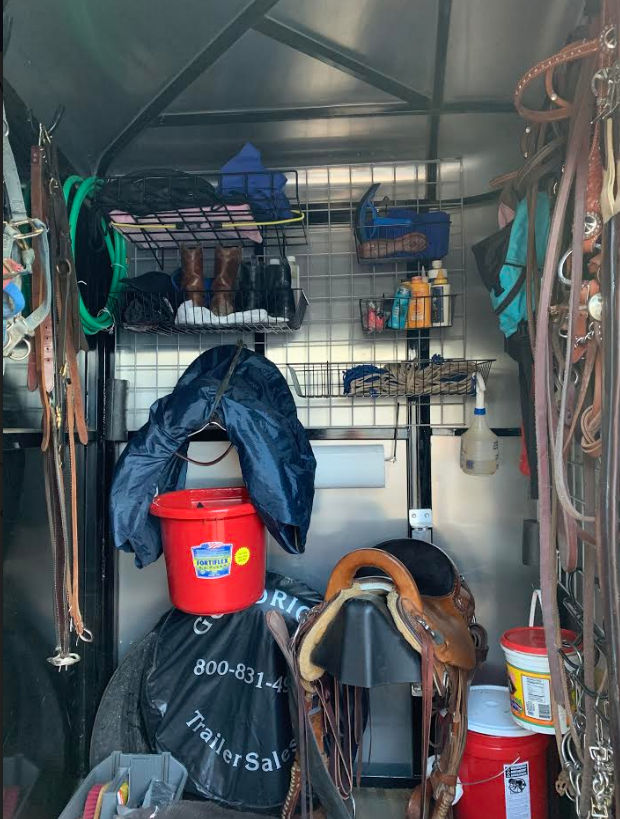 I love how organized my trailer is!
Tyler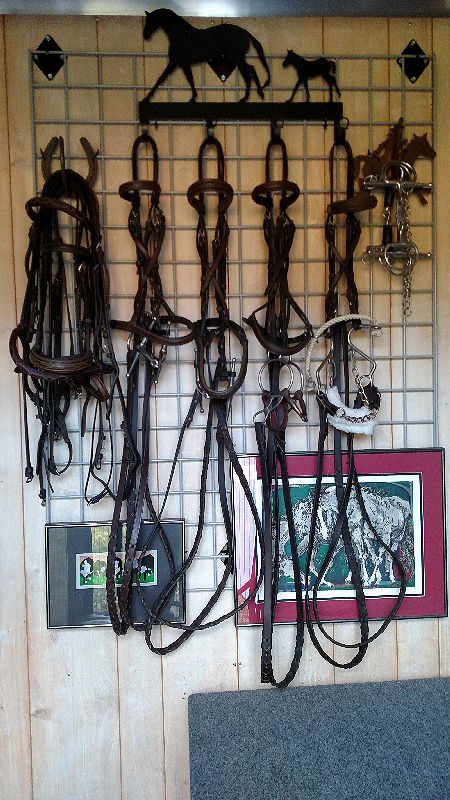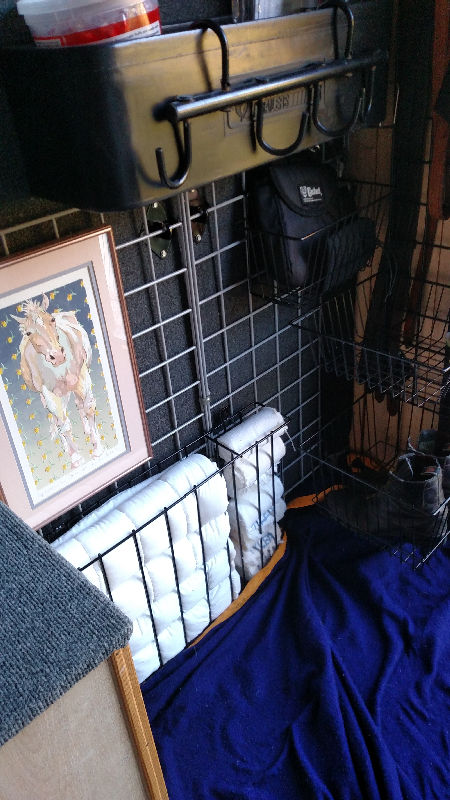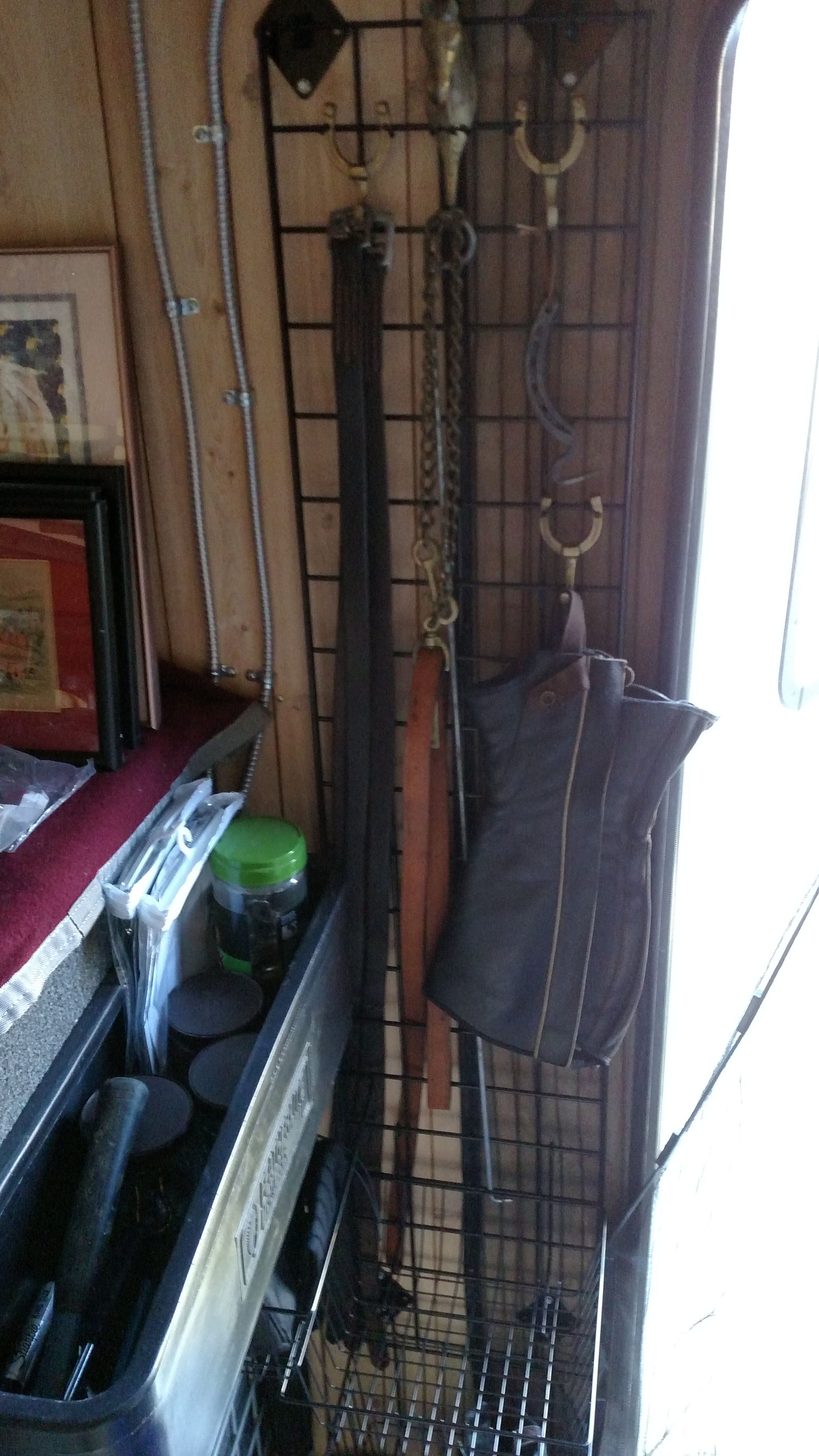 That panel worked out perfect!! I had been looking for something like that for years!!! Diana F.

Hang all your ribbons on a HOSS panel!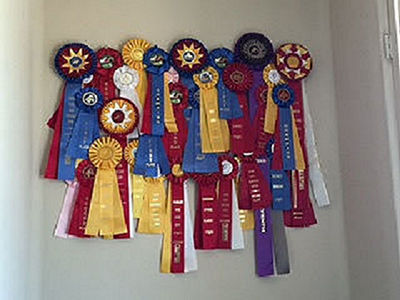 Trailer Dressing Room


We love our new HOSS system for our horse trailer! The system was easy to install and can be adjusted to accommodate any changes in tack supply organization that you want. Even better was the service that we received when calling "The Organized Barn and Trailer" Company. We received several phone calls to insure that we received exactly what we wanted. For a sturdy and reasonably priced organizing system for your trailer, you can't go wrong with the HOSS system. Thanks again!

Tim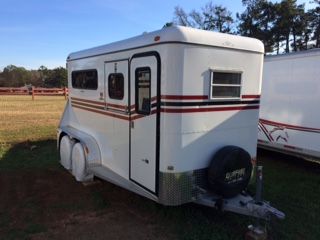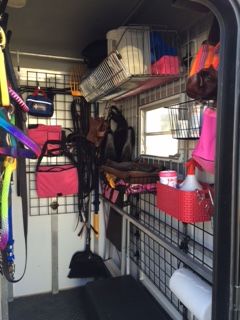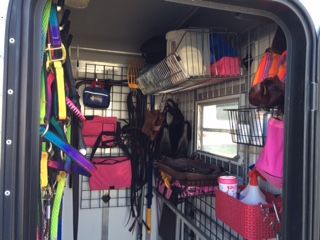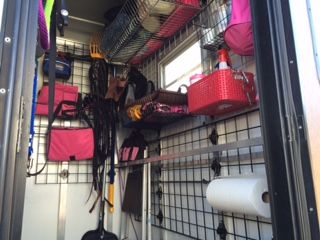 Trailer Dressing Room


My organizer is awesome!
I can't wait to put all our stuff in there. I have already had people ask me where I got it from.
Thanks so much.

Jennifer


Trailer Dressing Room


Hi michelle...here is a picture of how I used my organized barn baskets and hooks..... it's a Double D trailer so your company's grid came from Brad.....I got the notice of the 10% off your order by mentioning Double D the day after I ordered!
I love your products...it makes my hay rom and dressing room much more organized and clean!!

Thanks karen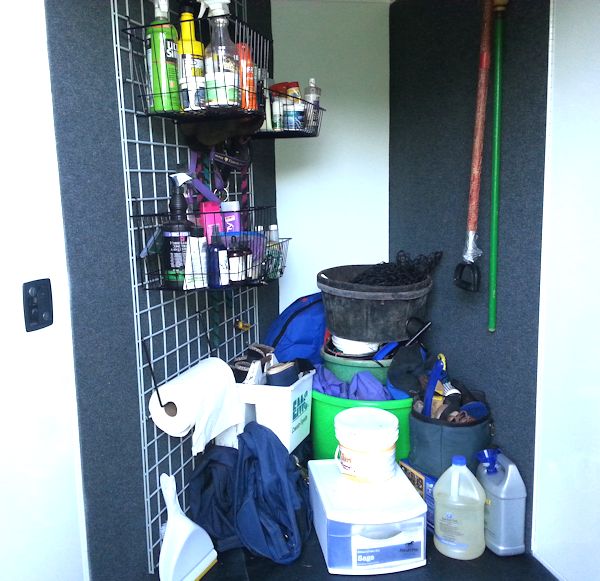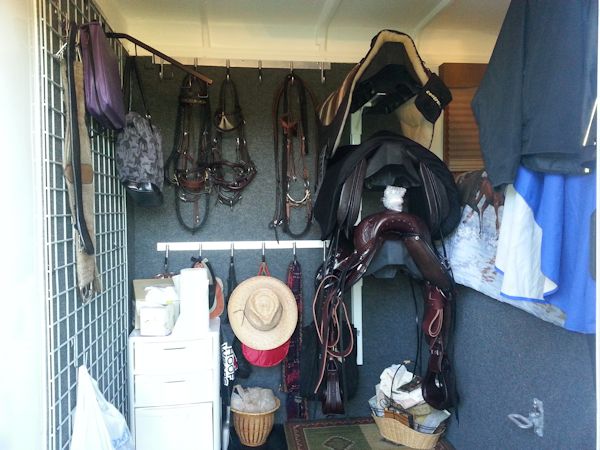 Trailer Dressing Room


I am so excited I received all my products I ordered from 'Organized Barn'. They are perfect & couldn't fit better in my trailer. I am thrilled to finally have my tack room in my trailer organized. Thank you for a wonderful product! I have attached a few pictures so you can see how well your product worked for me.

Best,
Pierette W.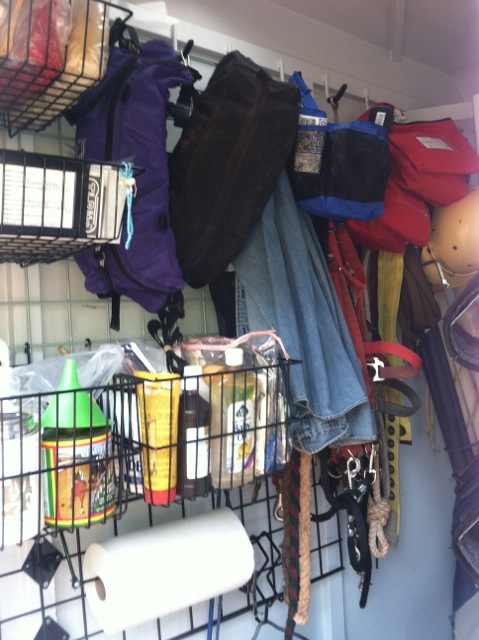 Trailer Dressing Room


I just wanted to say that I love how neat and tidy my trailer is now! I am so glad I found your website. Super easy to install and so functional. Thank you!

Emee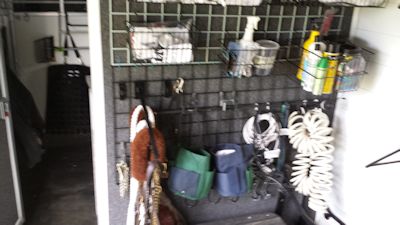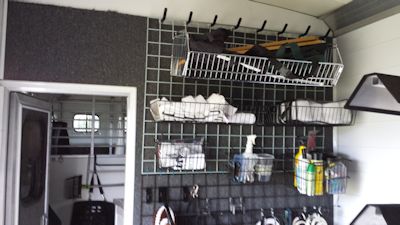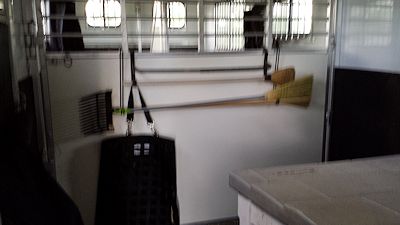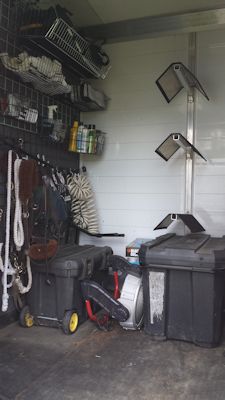 Barn Wash Rack


I am just in love with your products!!! Our barn is finally finished and the wash rack is finally free of building materials to actually use for grooming - woohoo! Here is a shot of my arrangement of your products - I love having all my brushes, hoof pick, boots, and eventually (when the freezing temperatures are gone) grooming products all in one spot and handy. I now want to organize my trailer with one of your systems. :) I am a fan for life!! (See next post below)

Jane W. from Rockford, Michigan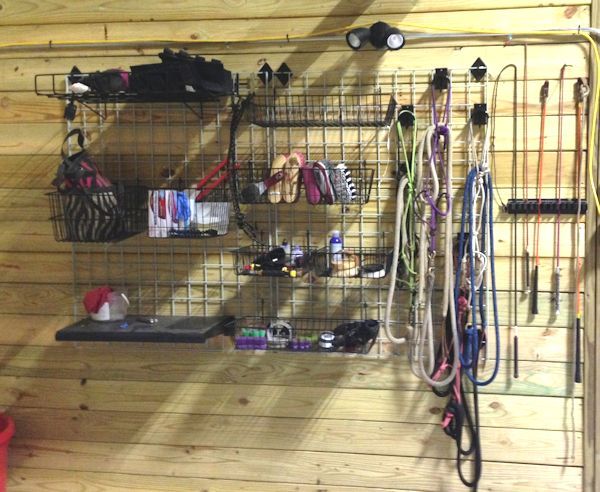 Barn Wash Rack


Hi there. We were able to hang the grids up today and I just love the flexibility of everything. I already have plans for all the baskets so I imagine I'm going to have to order more soon. :) Thank you for such excellent customer service and for such a wonderful product!!!
As you can tell, we are still in the construction phase of our barn but this is one wall of our soon to be wash rack. I am so excited to have my grooming tools out in plain sight - it will now be very simple to grab a brush or hoof pick without digging through a bag to find it.

Sincerely a huge fan!
Jane W. from Rockford, Michigan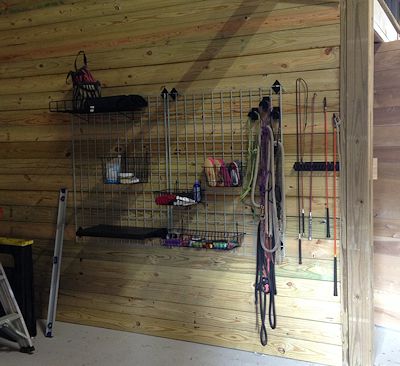 Horse Trailer Dressing Room


Well I LOVE your stuff & my horse friends are jealous. I think they'll be buying from you soon. All in all I do love the way it all looks and works! Thanks. Take a look.

~LeeAnne~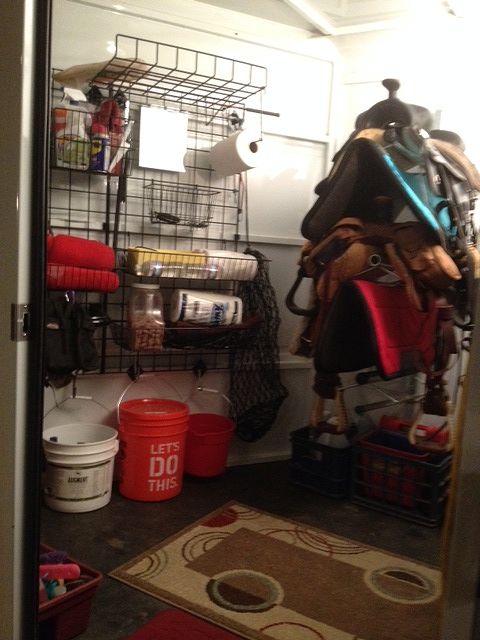 Horse Trailer Dressing Room


Getting ready for our annual trek to Florida. Everything can be stored off the floor! No more bins sliding around. It's wonderful. My tools and buckets are secured. Most of my luggage is up, out of the way and will Stay CLEAN!!!

Thanks!
Karen from Ohio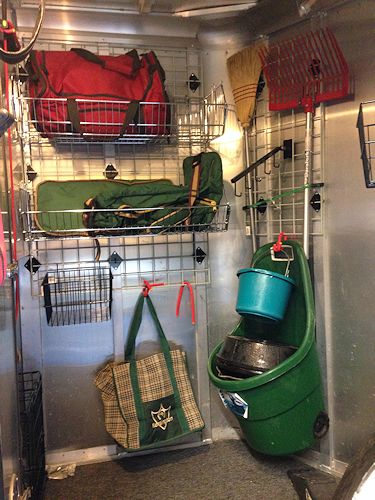 Horse Trailer Dressing Room


We are so happy with our purchase from The Organized Barn and Trailer! Our tack room used to be like a black hole trying to find something. Now I can find what Iím looking for, Iím not tripping over tack, AND there is even room for more! Finally, our tack room is a workable space! Thank you for creating this awesome system!

Kind regards, Kelly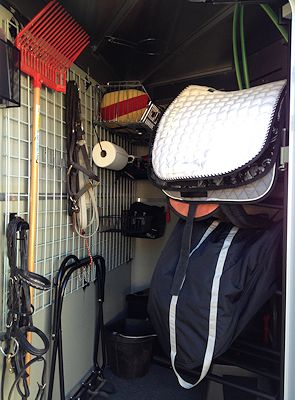 Horse Trailer Dressing Room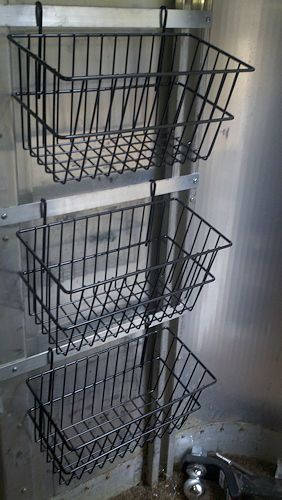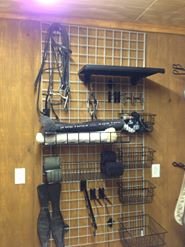 My tack room was just a mess, no room, couldnít find anything and too crammed to clean.

My husband said I would never get all of the stuff from the tack room back in there and also add in the items hanging in the aisleway. Because your system uses typically unused space (going up the wall) it keeps items off the floor and also allows you to customize according to our needs, we are still putting items in there and have room to spare. I can change my mind and move things in seconds which is great. I love having my tack where I can see all of it! I also like that I can hang one grid and instead of drilling holes and hanging multiple racks, hooks and shelves, only to not like the placement when I am done.

Thank you! I am ordering more items soon!
Kelly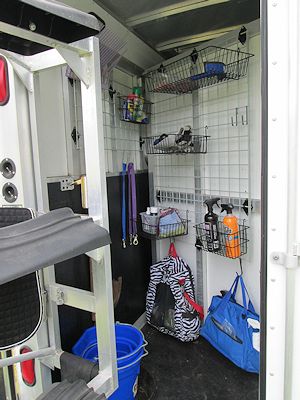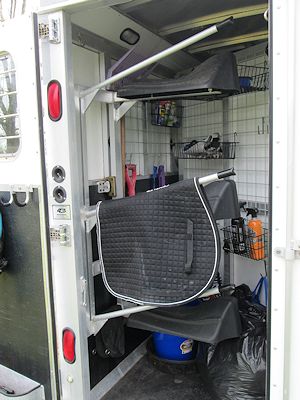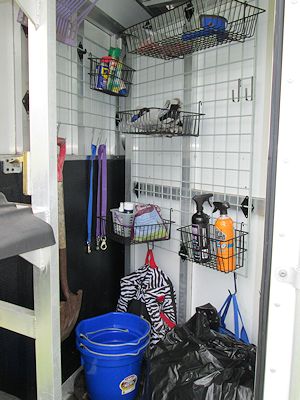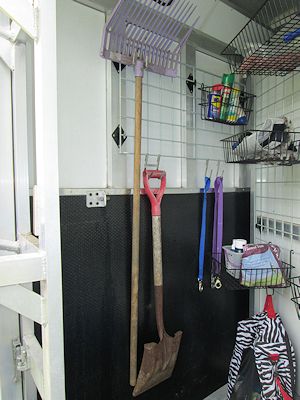 The hanging racks and baskets have been hung on the wall. I have a 3 horse slant gooseneck w/living quarters. The left door in the back end is the tack door. I know I haven't gotten all my supplies in there yet, and I may want to order a couple more baskets, but the way it is right now is unbelievable!! I love it that I can find anything I'm looking for instead of having it all piled on the floor!!! It seems like there's alot of room for storage now!!! I love it!!

Thank you!!
Terri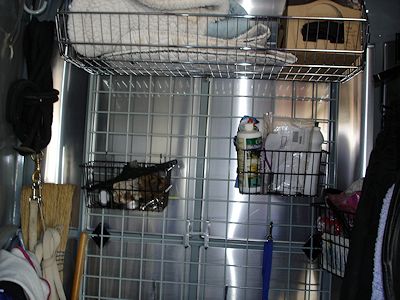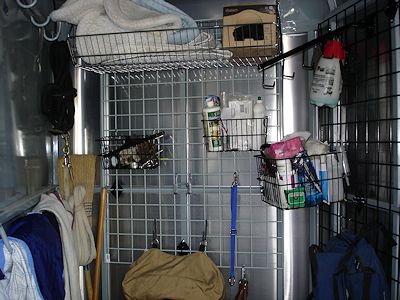 Horse Trailer Dressing Room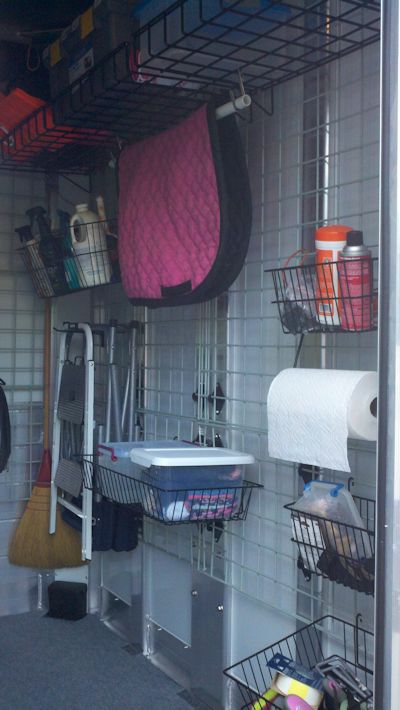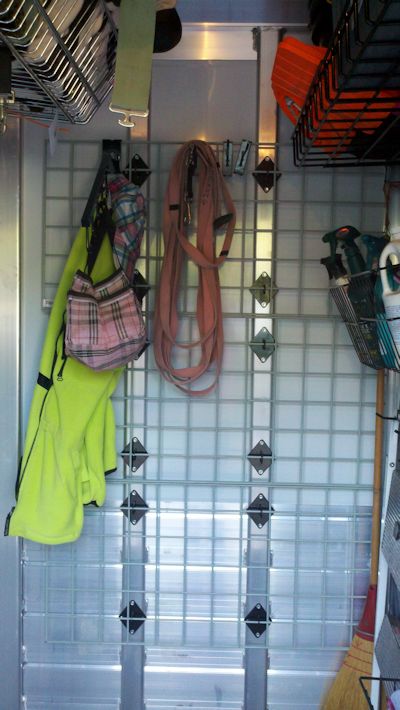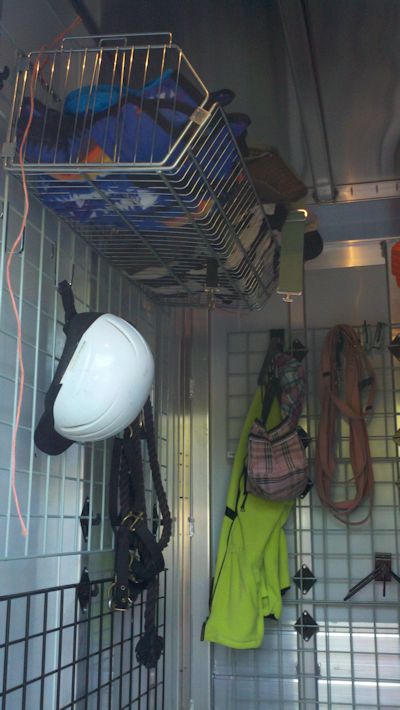 Horse Trailer Dressing Room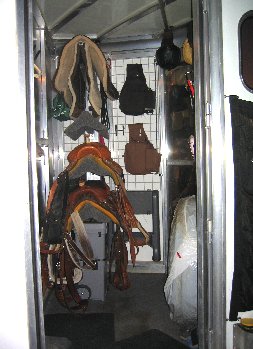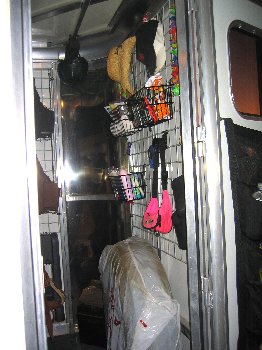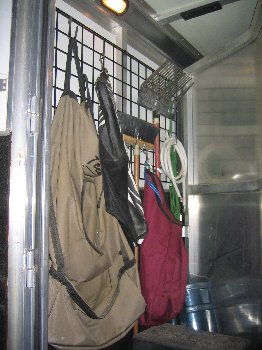 Horse Trailer Dressing Room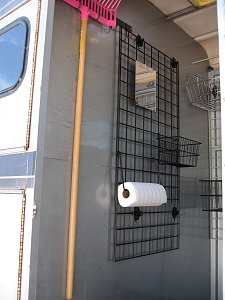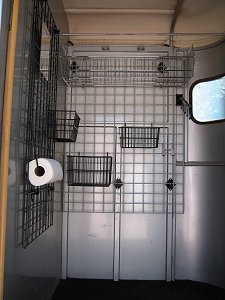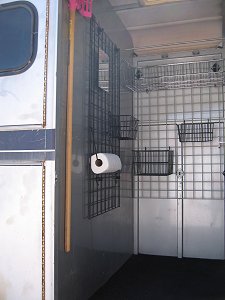 Horse Trailer Dressing Room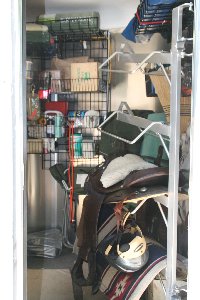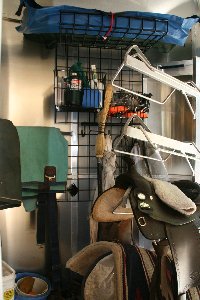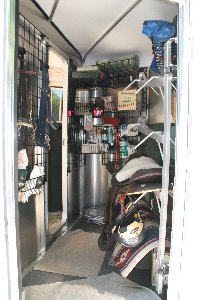 I just returned from a 4 day camp-out in the mountains and the organizer's worked wonderfully. I really like the idea of being able to reorganize and move the baskets to make my camping more efficient. Now that the weather has changed I will be storing the baskets which hold my camping gear. Next spring/summer I will only have to re-hang the baskets load the horse and head out. Oh how efficient will that be. The other women in our camping group were very impressed with the organizing system and hopefully they will be contacting you in the near future.

Kathy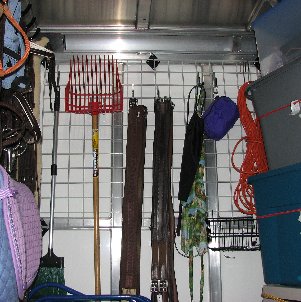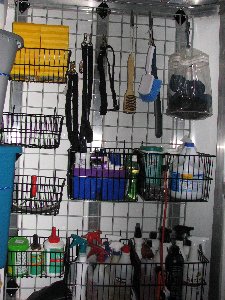 We are thrilled with our newly organized trailer. We have 2 walls where we used your wall panels:
1. We mounted a 3x4 wall panel (horizontally) along one wall.

- We used 6 brackets. 3 at top and 3 at bottom.
- This wall has one small basket (narrow wire basket) and alot of things hanging using the snap-on single and double hooks.
2. We mounted a 3x5 wall panel (vertically) along another wall:

- We used 6 brackets. 3 at the top and 3 at bottom.
- This wall has 4 large baskets (deep square wire baskets) and 4 small baskets (narrow wire baskets) as well as a few snap-on hooks.
The height of the baskets prevents anything from coming out during a bumpy ride. We have all of our bottles stored in the 4 large baksets. We've travelled to several trail rides and shows. We've received alot of nice complements. Thanks for a great product.

Jo Lee M. in Orefield, PA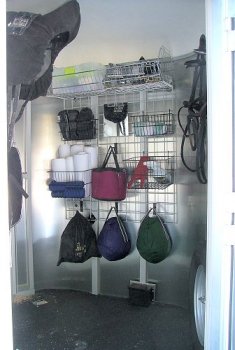 Attached is a pic of our new horse trailer organized with your product. We just love it!

Tobey P. in Grafton, WI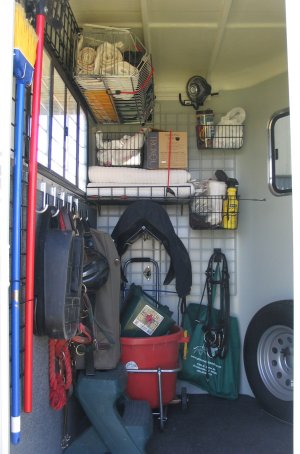 My new trailer dressing room!

Kristine in Gilbert, AZ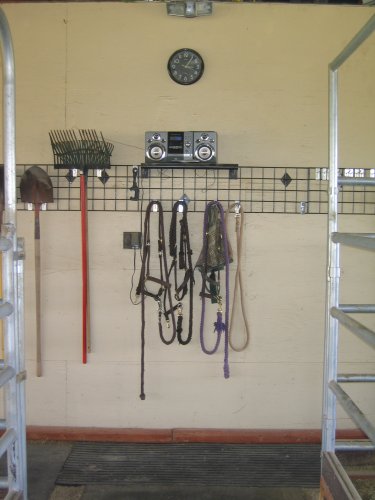 How convenient is this? Just had to share with you what we did at the end of the stalls so we could organize everything in one place - tools, halters, shovels, anything! We even have the radio on the cool solid shelf you guys have...we don't have to look for anything anymore. Thank you!!
Sue in Gilbert, AZ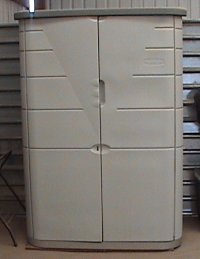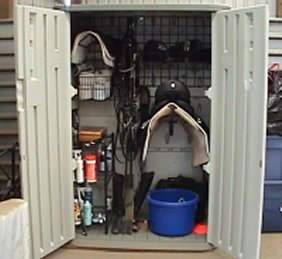 I just wanted to tell you that I bought a big Rubbermaid cabinet (77"H x 56"W x 32"D) this weekend for a horse trunk. Your system fit PERFECTLY inside it - almost like it was made for it. We installed the 2x4 panel horizontal towards the top - which left room below for some other stuff I have. He had to put some support on the outside of the back to screw into because he didn't think the plastic was strong enough, but it was super simple and he was done in about a 1/2 hour installing everything.
Amy from Oregon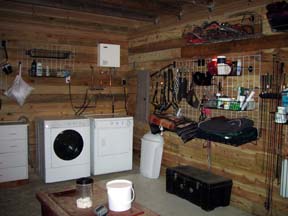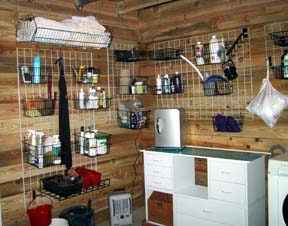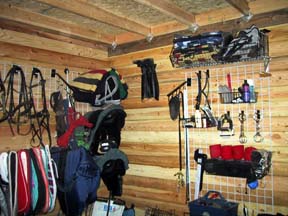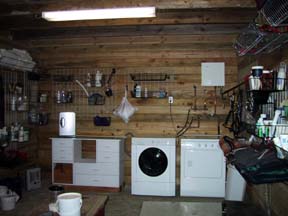 "Here's the tack room!!! There's a washer/dryer in the corner, and the on-demand water heater above them supplies HOT water to the washer and the wash stall next door--the horses get warm baths all year long under a heat lamp--and to their right are halters, coolers, some med supplies and the whip rack. To the left of the washer/dryer--next pic--are storage cubes with a mini fridge on top for meds, and on the wall are washing supplies, tail wraps, etc. The 3rd pic shows saddles, some of my myriad of saddle pads, polo wraps, blankets, blah, blah, blah. The last pic shows the whole south wall."
M. Rust, Port Townsend, WA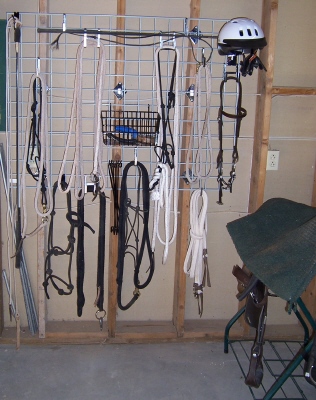 "Thank you so much for helping me organize my tack room. I ordered your HOSS panel with lots of accessories. I use a lot of natural horsemanship training tools, so in addition to my regular riding tack, my equipment was scattered far and wide. Now everything is in one place, easily visible, and readily accessible so that I can spend more time with my horse and less time searching for what I need. Your products are wonderful!
J. Worley, Maricopa, AZ
"Just wanted to let you know that I (actually my fiancť) installed my new Organized Barn and Trailer System in my Sundowner two horse straight load trailer with dressing room. It was better than I ever could have hoped for!

We used the pipe clamps that you sent to hang the large panel. The clamps were perfect for this panel to mount flush against the wall. The regular mounting brackets worked very nicely to hold the large bin and smaller panel above the windows. I have already filled the baskets and bins and haven't even packed for the show yet. This wonderful system will allow me to keep one of everything in the trailer so all I have to do is pack my horse and tack and we're ready to go. I may have to order a few more bins and hooks though.

One problem that I did find - I have to bungee my manure cart and buckets. There is too much floor space and they roll around and fall over now. This was never a problem before as there was never any floor space once the trailer was packed!

My mom is going to be very surprised when she sees our newly organized trailer. Will take some pictures once I get the trailer fully packed for the show this weekend.

What a wonderful product. You definitely need to get the word out about it. I just happen to get lucky and see an ad in Practical Horseman."
L.Klepitch, California


And she goes on to say....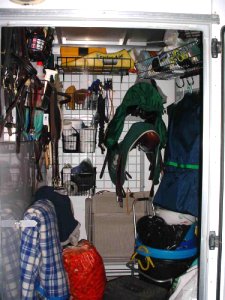 As promised, attached are pictures of my newly organized trailer. Previously, I only had space to hang six bridles and two saddles. The saddle racks were so low that I couldn't get much underneath them. Also the saddle racks were designed more for a western saddle so my English saddles would slide around on them.

As you can see from the pictures, I have a LOT of stuff packed now and it is soooo easy to find. What you can't see is a short wall to the right of the door. I have a black shelf hanging up with my helmet's and jumping bats store there. My mom/ace helper just kept staring at the new set-up. She was laughing with glee at the ease of finding everything and not tripping over things.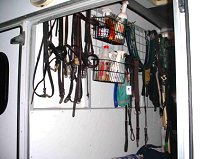 The trailer picture on your website doesn't do trailer organization justice. You might want a higher end "deluxe" trailer package.

I have brochures in my trailer in case I run into any interested people.
L.Klepitch, California
"I stopped by your booth at the Equine Affair in Springfield, MA and was so impressed by your system. I have a two horse trailer with a dressing room. Currently my 3 girls and myself all show and share the dressing room. Needless to say with that much equipment, clothing, and "stuff" it can be a bit messy! I love the fact that your HOSS system allows the hooks and baskets to be moved around as needed!"
D. Driggs, Franklin, MA
"The rest of the order arrived by UPS and we are very happy with the set. Blue Hills Riding Center is a "beginner barn" which does some boarding and a lot of basic lessons (read: lots and lots of kids around and far too much nagging about keeping things in order). Our lower barn houses ten school horses (and two boarders who have their own tack boxes).

The old "system" for tack involved those plastic boxes which always seemed to wind up in corners and full of hay, dirt, and a jumble of brushes as well as a lot of brushes scattered around the floor at the end of the day. Over Christmas week I hung two 5x1 racks, sideways & one above another, below one of our long stalls and hung 9 baskets on it, and another basket in the back of the area on eye hooks. Also put little eye hooks on several stall doors so that anyone who moves a basket can hang it up where they are working."
P. Edraos, Quincy, MA
"Clutter & mess drive me INSANE, and when I found your products, I was thrilled! It will be nice to have a system with inter-changeable components in my wash stall, grooming area, and trailer, and then the next step will be to do my tack room over!"
J. Alcott, Spotsylvania, VA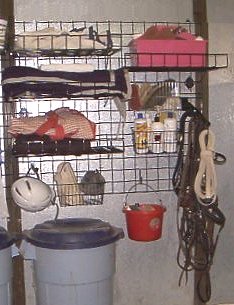 "I purchased a HOSS feed cart on wheels that all of us use at Mike Steele Dressage. Mike uses it primarily to tote feed buckets to the water hose to moisten the horses' munchies, then distributes the buckets down the aisle in one easy trip. The cart doesn't collect dust or dirt and we also hang hooks and baskets on the sides to hang halters, bridles, brushes, and spray bottles to keep our grooming area free of clutter so we can work safely around our horses.

I also installed two 2 x 4 panels length-wise, one above the other, in the feed room and hung a bunch of baskets, shelves and hooks so I could unload my tack trunk onto it. Now I can see EVERYTHING I own and I don't have to stoop over and dig through my trunk anymore! Love it! Everyone in Mike's barn wants to install one now."
S. Heidtke, Scottsdale, AZ
"I have been using my "Organized Barn" tack box for about 6 months now and am amazed how organized my life has become. Everything I need for a day of hacking or showing fits in my box great including my dressage saddle. No more pails and boxes all over the place. The HOSS panel that hangs over my door saves space and time hunting for that right item. The number of baskets that you can hang on the door can be a few or several. I like the flexibility!"
M. Schilling, Chandler AZ